10 December 2010 - Advanced Solutions Nederland adds SHARC DSPs to its portfolio
Backed up by many years of successful algorithm development and Mathworks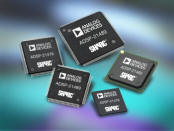 certification, hi-tech design consultancy, Advanced Solutions Nederland is pleased to announce the addition of Analog devices' 4th generation floating point ADSP-21479 SHARC DSP to its portfolio.
The addition of the ADS-21479 DSP to ASN's family of supported processors will serve the needs of an increasing number of clients requiring high performance radar tracking algorithms and high precision sensor measurement solutions on low power platforms, while at the same time balancing performance against cost.
Senior algorithm developer/director, Dr. Sanjeev Sarpal remarked that, "thanks to the ADSP-21479's parallel processing functionality, algorithms that were even up till a few years ago considered unimplementable on a single core processor are now possible."
Find out more here at Analog Devices' website: Click here